Police In-Vehicle
The Billion M500 Mobile Communications for Police In-Vehicle Connectivity
Case_Study-Police-In-Vehicle-Connectivity-BillionM500-0310
Police In-Vehicle Connectivity
Mission-critical operations from the police to protect and serve communities are vital to impact our daily life. Broadband wireless communications achieve high efficiency and effectiveness in the public safety sector. Stable and secure connectivity for in-vehicle Police Dispatch Solution encourages responses in time. One of the Police Department in Europe needs a communication solution to accelerate their tasks, which response time is crucial. 
The users: Police Department in Europe 
Product: Dual LTE radios in-vehicle router with E-Mark (R10 & R118) certified
Application: public safety, in-vehicle connectivities
Requirements: provide high bandwidth, always-on connectivity, and seamless failover and failback 
Police vehicles are being deployed to respond incident response and routine patrol. A single unit of communication equipment could not fulfil the all applications and requirements. 
They looked for an in-vehicle LTE router and supporting dual LTE radios to overcome the following challenges:
Most of routers supports one LTE radio only. 

Disconnection and interruption happen sometimes.
Billion M500, E1 certified, Multi-Carrier 4G LTE router, provides always-on and high broadband wireless for polices in-vehicle applications in Europe
How Billion Helped 
Real-time mission-critical information exchange

Applied for Police Task Dispatch
At a high level, public safety involves protecting the public — safeguarding people from crimes, disasters, and other potential dangers and threats. One case in Europe, by using Billion M500, assists the police for reducing crime and protecting the vulnerable. 
With the emerging technology, to empower the police task dispatch, a strong multi-functions in-vehicle communication device is indispensable. It should support always-on, redundancy, and strictly secure for communication.
Support LTE Band 14, 28 & 31 for Public Safety Networks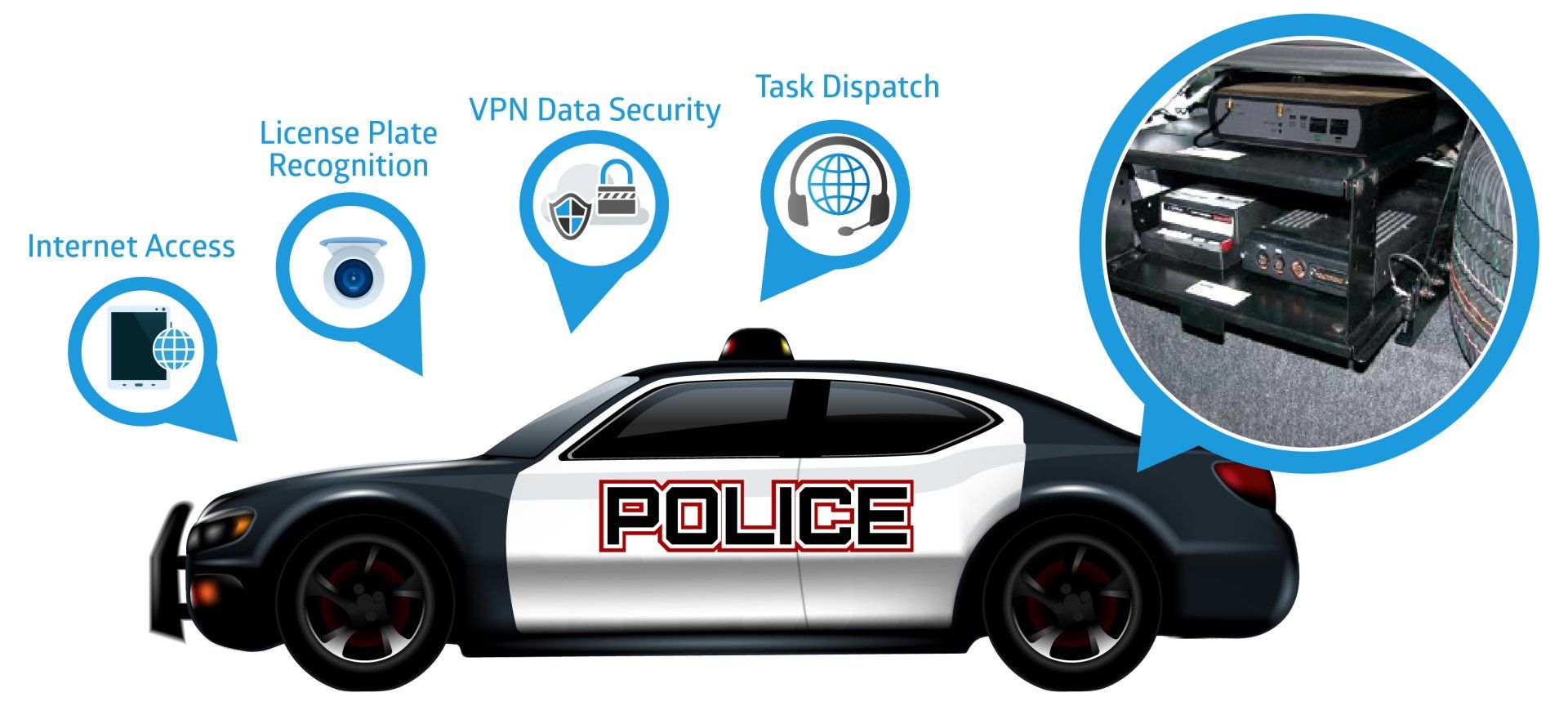 * LTE bands supported public safety are not limited to these.

Billion's M500 provides network reliance by
The dual-radio supports multi-channel video streamings

Dual 4G LTE broadband connectivity with auto failover and failback

Rugged design for withstanding heat, vibration, and shock for harsh environment

Embedded GPS receiver for real-time asset tracking and location data-based applications

VPN supports data security
---
Conclusion
Provide high bandwidth for real-time license plate recognition and investigation

Database lookups, dispatch messaging, video feeds, and broadcasting within seconds 

In-vehicle Wi-Fi enables real-time mission-critical communication

Improve the incident response

Optimize response through seamless redundancy

Streamline operations and increase efficiency
Specifically designed for in-vehicle applications, Billion M500 is a high-performance all-in-one LTE communications platform with advanced software, which delivers extreme uplink/downlink rate and Wi-Fi hotspot services.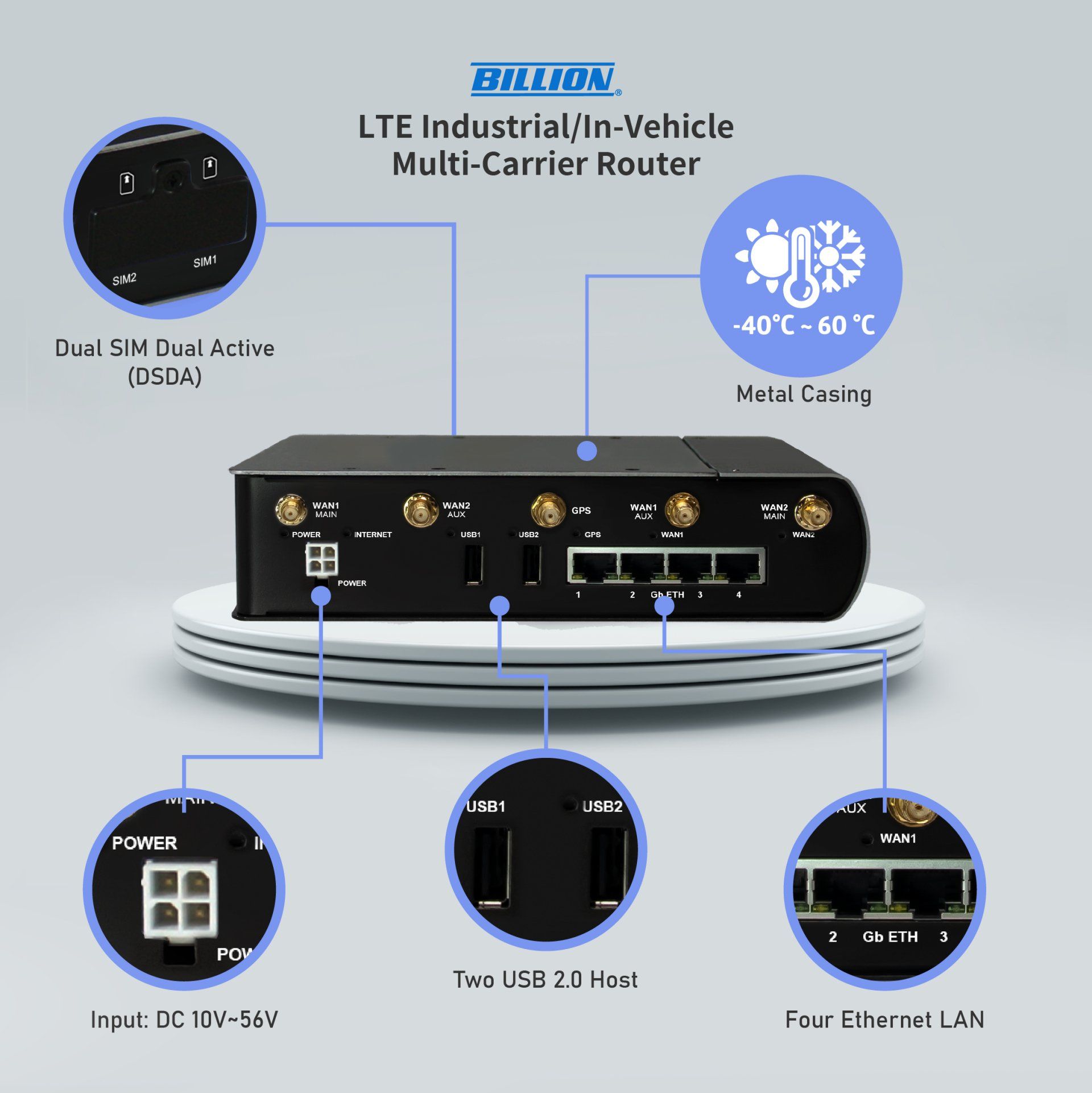 Stable and redundant connectivity enables public safety missions and optimizes police dispatch for incident response in real-time.Police officers now can trust that their connection will remain secure and reliable in order to fully perform their duties efficiently.
LTE Industrial/In-Vehicle Multi-Carrier E-Mark (R10、R118) Router
---
The Billion M500 LTE Industrial/In-Vehicle Multi-Carrier Router is a high-performance all-in-one fixed wireless communications platform with advanced software enabling high availability, reliable and secure wireless connectivity for mission-critical applications. The compact rugged design integrates dual SIM dual radio, 4-port Gigabit switch, Wi-Fi access point, embedded GPS with the concurrent-multi-GNSS engine for GPS or GLONASS and ignition power control for in-vehicle applications. The M500 is specifically designed to support a wide range of applications and vertical machine-to-machine (M2M) market segments.